Graduation Hat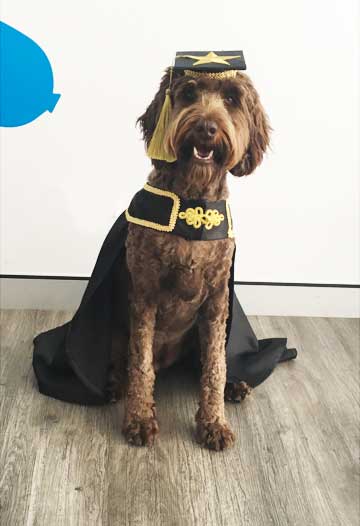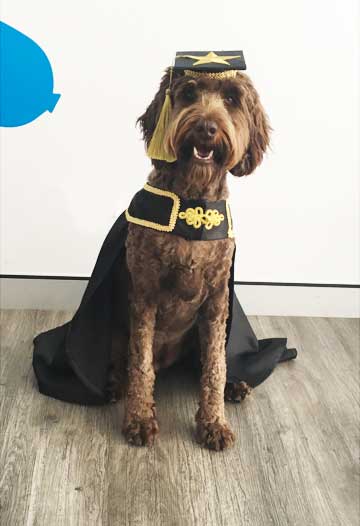 Graduation Hat
Our graduation hats are made from a beautiful soft satin fabric, embellished with gold braid, a gold star and a thick gold tassel that falls from the top of the hat. An elastic gold cord and a black toggle hold them on under the dog's chin, although they can be simply held over the dogs head for a photo if ears get in the way. They really are an example of millinery couture on a small scale and the manufacturing process involves many time-consuming steps to create the perfect piece.

Designed and made in Australia.
Sizes guide
Small – The top piece of the hat is 10.5cm square, base height 2.7cm, circumference of the base is 6.5cm
Large – The top piece of the hat is 15.5cm square, base height 3.7cm, circumference of the base is 15.5cm
Care
To keep your hats in good condition and prevent them from being damaged they need to be stored in a box.
Make sure clients wash their hands before handling hats as they can only be spot cleaned if soiled with a lightly dampened cloth.
Additional information
These special graduation outfits are NOT designed for puppies to run around in, but to adorn for a quick photo or two with their proud owners to celebrate their joint achievements.

As a positive trainer, it is your responsibility to set realistic timeframes and manage any signs of stress. Our guideline is two minutes for a photo once garments are on.

Remember some ears are either too beautiful or just not designed for wearing hats. In this instance cloaks alone look simply divine. They are light and easy to pop on and off with a velcro attachment at the front.

Holding hats so they hover over puppies heads for their photo is an alternative to actually putting them on and is sometimes the best idea.

Your clients will leave with a very special photo to keep as a memento which will also remind them of the fantastic experience they had at your Puppy Pre-School.
Payment
We accept all major credit cards and debit cards (Visa, MasterCard, American Express) as payment methods at checkout.
All items must be paid for in full before we ship.
 
Shipping
Stock orders are processed between 1-3 business days. We can make hats in your choice of colour. Orders in custom colours are shipped after 21 days.
We currently ship within Australia, to New Zealand, USA, UK, Japan and China. If you come from a country that isn't listed here please send us an email with what you would like to order and we can calculate shipping costs for you.

*Depending on international customs, public holidays, etc- worldwide shipping can take anywhere from one to two weeks. Aus - US usually takes around 10 business days.
Shipping Cost
Within Australia - $5 per order
Overseas - $10 per order
Refunds and Exchanges
If unsatisfied with your purchase, we are happy to exchange your unused / unworn item/s within 5 days of receipt of the item/s.

We only accept returns and issue refunds for damaged or defective items. Again a request must be made within 5 days of receiving item/s.

All additional shipping for return & exchange is at the buyer's expense.
Sales are final on all custom made items.

Please contact us if you have any questions. We aim to provide the best customer service possible and to sell top quality merchandise.
Additional Policies and FAQs
We are happy to discuss custom made & wholesale orders.